Now that it has been a few months since I completed my #90videosin90days project, I have had time to reflect on it, what I learned, and what lessons I have taken from it moving forward.
As you may know, back in the Fall of 2016, I produced and published one video per day for 90 straight days.  The videos were uploaded to both Instagram and YouTube (with some videos posted to Facebook on a 90days.site page I started.  This was a very fun project where I learned a lot.  By the end of the 90 days, my intention was to increase my experience in communicating via Internet video, and I believe I accomplished that.
To me, this was about way more than making videos, and more than becoming a better video creator.  This is a way to finally start consistently producing content.
The videos were daily.  If I missed a day, I had failed.  I could not take a day off and make two of them one day. (For those of you who have been using Facebook to watch my videos, I did not posted them there every day since uploading them from mobile is a pain).
One thing that was wonderful about my project is that it was a great experiment.  I continually added new things to it, to ultimately find out what worked and what did not.  My biggest surprise was that the videos got the most traction on Instagram over other formats!  I had barely used Instagram before this, but had been experimenting with it (along with Snapchat) in the months prior before jumping into this series.
This was honestly not something which was well thought out.  One day, on the way to work at Costco, listening to the audiobook version of Gary Vaynerchuk's 2009 business book "Crush It".  I was listening to it on repeat as I borrowed it from the library (I since purchased the audiobook to go along with my Kindle version).  I pulled up into the parking lot, and decided to record my first video.  Five minutes later, it was on YouTube.  Then, on a whim, I decided to put it on Instagram.  It was up, and I now had made the entire Internet (or at least people that I was connected to online) accountable.
I was more interested in making the videos then getting a huge reaction to it.  I did not promote it on my regular social media feeds (particularly Facebook) for at least a month.  I was learning how to make great one minute videos on a daily basis.  Each day, I asked a question of the day.  I found the ones which resonated the best were ones where I would react the next day.  There were videos where I asked the audience to ask me questions to answer the following day:
There were setbacks too, like the fact that I failed to read the book that my viewers suggested I read for an impromptu book club.  One day I may get to "The Professor and the Mad Man" by Simon Winchester, but it did not happen within the initial 30 day time frame, and ultimately the 90 days.  I'm human, and the videos went on despite one of my initiatives not coming to fruition.  It was a lesson of what my strengths are and aren't, within this framework.
Another thing that happened through the course of the videos was to strive for creativity.  I liked finding different locations to shoot and different clothing combinations.  I had "special guests" like both of my nieces and both of my cats.  There was a point where my question of the day was a constant stream of "What is your favorite (something)?" that became monotonous at times.  But I wouldn't have it any way.  The three dollars I paid to Times Square costumed characters made great online video!

Since I completed my videos, I have been asked what I will do next.  I have let it marinate.  Do I make 90 more videos in 90 consecutive days?  Should I focus on finally launching my podcast?  Do I make something else?
What I am doing next actually will combine the 90 videos with making a podcast.  My #90videosin90days has begun #season2.  In the next 90 days, I will make one video every day, as inspiration to finally make this podcast a real consistent thing.  By Day 90, my goal is to have ten episodes of my podcast live on iTunes and all other major places where podcasts are available.  My video audience will be there to keep me accountable.  Let's go!
It is Day 1 of 90.  Again.

When I was a child, I had an idea that I thought was so revolutionary that it had to happen.
As a Nintendo addict, I wanted to play my video games all day, even when I was at school.  Or at least during recess.  Until then, my issues of Nintendo Power (and later Electronic Gaming Monthly) just had to do.
The idea was, you guessed it, a portable video game console, kinda like the little arcade machine replicas, where you can play Pac-Man or Donkey Kong or something.  Except, this machine was a Nintendo Entertainment System, and can play NES cartidges.
With my "brilliant" idea, I wrote a letter to Nintendo asking that they can make it.  To my surprise, I got a letter back stating thanking me for my suggestions and that they are considering making a portable system.
I thought that I invented the Game Boy!  I bragged all about it through my elementary school, with all of the details of my idea.  I thought that this major company listened to this little 7 or 8 or 9 year old kid!
Of course, it wasn't meant to be.  When Nintendo announced the Game Boy, with a very different design that played its own, smaller cartridges, I was disappointment, but still thought that I, Ian Michael Isanberg was the inventor of the Game Boy.  I thought that I deserved compensation, if not money then a Game Boy for myself!
That lead to my second letter to Nintendo.  Once again, they responded saying that many people sent them letters and requests to make a portable system and that it was not just my idea for it.  Back then I was upset but as time went on, I accepted it as the funny story that it was.
In the end, I never owned a Game Boy, but I had a Game Gear, my only Sega product, with a color screen!
Fast forward to today, and anyone can build a mini-arcade system like the one I wanted as a kid using a Raspberry Pi.  I'm not itching to do it myself but it would be a nice birthday present.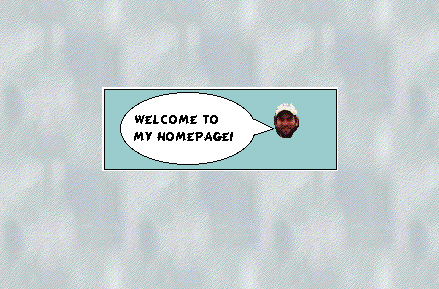 I had a blog before there was blogging. I made a lot of content. Texts, pictures, poetry and even an animated GIF. It was cool having a homepage. I kept on changing the layout over and over again.
And then the rest of the world caught up. Time passed and new generations started creating content. Some are even making a living out of it!
Over time, I have learned the different social media networks, including the increasingly big space of mobile only stuff.
Welcome to this modern, professional, adult version of the website I made and maintained in college and throughout my 20's. I have been inspired by a bunch of social media icons over the years like Chris Brogan, Gary Vaynerchuk, Jeff Pulver, Chris Dessi, Rony Seikly (former NBA player turned highly sought out club DJ?) and others. OK, maybe not Rony Seikly, though I am very fascinated by the fact that he isn't just a DJ but a popular one.
Here, my goal is to provide valuable insights to enrich your lives, personal and professional. I will share facts (like that I like ice cream), opinions (Ben & Jerry's made a mistake in retiring Jimmy Fallon's Late Night Snack, replacing it with The Tonight Dough) and other enjoyable stuff!